Testimonials
"they are very highly recommended by my vet."
"The boots have arrived and fit perfectly. They are really wonderful. Thank you
"
Kathleen C.
SK, Canada
_________________________________________
In May of 2007, Tufts School of Veterinary medicine performed a surgical arthrodesis on my imported PRE (Andalusian) who at the time was a third level dressage horse, for high ringbone. Prior to surgery, it was clear that he would not be sound without the surgery, so I felt I had no choice except to go ahead with the fusion. He now has a plate and 6 screws placed in his pattern, and that joint is completely fused.
I was comforted by studies that I found on line, and by the confidence of the orthopedic surgeon at the school that horses that are fused have a high % chance of returning to the level of work they were at prior to the injury. These papers reported that the pastern is a low motion joint, with little to no movement, so fusion would not affect the gait, so I felt sure that my horse's beautiful movement would not be affected by fusing that joint. That was the least of my concerns -- it was surviving the surgery, the cast and getting through post surgical recovery and stall rest without further injury. Which he did! My horse has an incredible and strong spirit and was the world's best patient!
Also during this process I became more and more convinced that barefoot was our only option and hope of keeping this horse sound when he returned to work, since he has mild ringbone in the left pastern, but not articular. I feared that shoeing him would send an unforgiving concussion up his leg; and I've become a barefoot advocate anyway during this learning process. My horse will never see shoes again!
We began his rehab work in November of 2007 and I worked him in long lines for 4 weeks and then began some under saddle walk work, adding a few steps of trot each day. By January of 2008 we were back in full work, but because he was barefoot, I found I needed boots for him to go outside on harder surfaces. June O'Brien fitted him with Old Macs, but it was obvious that these were not going to work for my horse nor was I going to be able to school my horse in dressage in the Old Macs. I began to look around at other options. I'd already had a pair of Horse Sneakers, which were okay, but I still did not feel secure and confident in those.
After a lot of research, I eventually discovered the Marquis and decided that if I hoped to continue my training, I would need a pair of boots that were designed to allow a horse to work as if he was barefoot, but provide the cushion and protection that he needed. Since getting the Marquis, we have moved to another training barn and I find that for some reason the indoor footing balls up in my horse's feet and, with my vet's recommendation, I wear the Marquis for all workouts even indoors, to protect him from getting footing snowballs in his feet and causing a soft tissue injury.
I can happily state that the Marquis work beautifully. We are in full work and are even schooling flying changes! Initially, when we began to ask for extended trot, he did tear them off a couple of times, but a little adjustment of the tightness solved that problem. (I think I didn't have enough air in the chamber and he was leaving them slightly on the ground – by a nanosecond – and when he was in that big extension, he'd grab the front boot). But now we can execute all our lateral work shoulder in; haunches in; trot half pass, canter half pass, walk pirouettes, extended gaits (medium trot, extended trot and extended canter), and counter canter, and are now working on his flying changes and have had no problem.
Iberico seems to relish the cushion the boots give him (though once we return to the grooming area, he raises each foot as if to say – get these things off me – and holds it in the air until I do!) I do sometimes feel that going from being barefoot in his paddock all day, to being booted for an hour's workout is an adjustment for him for the first few minutes, but then it's like he's got a good pair of running shoes on. The only time I've lost a boot during a workout is when he's cut up and twisted in a buck or spook and grabbed it with a back foot. And I honestly don't think I could stay at this facility (though I like every other aspect about it), if it weren't for the Marquis, as the footing is a concrete sand/rubber mix, that tends to really pack into a sole that isn't covered. And with my horse's issues, that could be a disaster.
I'm very happy with the Marquis. My only problem at the moment might be that the screws in the bottom have begun to rust, but that may be because I've washed them out and left them to dry – so that had an opportunity to rust.
We have shown since his injury, but plan on getting back in the show ring, but there dressage will not allow you to show in hoof boots, so I'm not sure what I will do – depending on the ring surface. We have no problem riding on turf barefoot or in soft footing, but if the footing is hard, I need the boots, so I may have to forego showing under some circumstances. But I'm just glad to have my horse back and to be able to continue to school up the levels with him. And the Marquis' have helped us tremendously! This horse will never be in shoes again, so I'm very grateful that I found the Marquis so he can continue to do what he loves best – dressage, and quite well, might I say.
Christ K. MA
_________________________________________
My husband's name is Chal and he is a lieutenant with the
Placer County

Sheriffs Dept. He has been on the mounted patrol unit for 15 yrs. and
in command of the unit for 12 yrs. He is also a sergeant for Cal Expo,
in the mounted unit.
Our first consideration for a shoeing alternative began when we
purchased a new horse for mounted patrol. He was barefoot, had strong
healthy feet and I was hoping we wouldn't have to shoe him.

Next we had a thoroughbred with poor feet, who could not hold street
shoes due to thin walled hooves. Plus, even with the best 'street
shoes' his legs would swell unless he was rested often during
assignments. We tried every brand of street shoes without much success.
These two situations produced the motivation to search for boots.

The need: A boot that would accommodate a fox trotters gait without
shifting, twisting or hindering his action by gripping to
soon on contact with the ground. A boot that would stay on the thoroughbred
without exerting too much pressure on his hoof walls and provide suitable
cushioning for the sole. Then again, a boot that wouldn't have to be replaced
often due to the rigors of working on pavement.

After many considerations, the Marquis boot was the 'only' boot that
promised to meet all of our requirements. I was impressed by the
research invested in the development of these boots...particularly the
sole, and noticed that other companies were copying the sole tread when
redesigning their own boots. Also the soles and other parts of the
Marquis boots can be easily replaced as needed and that is very good
news for our budget.

As for purchasing the Marquis, it was an invaluable experience to work
with the Adderson family. They know their product extensively by
regularly using it themselves . Their dedication to family and horses
is unquestionable and their commitment to customer service is unheard
of these days.

The result:
1. Our fox trotter has been able to work on pavement while
remaining barefoot and sound . Plus the Marquis boots
have not in any way hindered his gait which is a real concern with some
other boots.
2. Our thoroughbred is now barefoot and growing lovely healthy feet (hurray!)
as well as maintaining on pavement without any discomfort or leg swelling.
3. Our yearly cost for equine foot-wear and foot-care has been reduced
significantly.
4. Purchasing the Marquis has happily introduced me to the Adderson family,
a refreshing and delightful blessing in itself.
The Downside: My husband constantly has people chasing after him while
on assignment.......not for police assistance.... but to ask about the boots!
Helpful Hint: Any one choosing to buy Marquis must request a hand full
of business cards with their purchase or you'll be sorry later you didn't.
Best Regards,
Lyn
__________________________________________
I would like to congratulate Marquis for making top Quality Boots!! You guys are the best in the business. Your Boots are better than any others boots I have used. It is not a coincidence that, when I use your boots on our horses they don't retain inflammation or acquire injuries. Marquis has made me a strong advocate. Thank you for making a product that is worth praising over and over. Great Job!!!!!!!
Carly D. Oregon
__________________________________________
My Marquis SuperGrips are the best thing that ever happened. Love them! My horse made the perfect transition to barefoot. Thank you for products that help improve horses life.
Sue B.
South Riding, VA
__________________________________________
I love your boots. They have been the best for my horses and me. I recommend them to everyone.
Sarah W.
__________________________________________
Hi
I have an older pair of Marquis. I love them and am a dedicated user. I am wondering if I can send them to you to be refurbished.
Sarah W.
Hello Sarah,
Good to hear from you. Yes, please send your boots along to us and let us know what you would like done.
Chris
Stride Equus
__________________________________________
Hello Chris, the road nails worked perfectly - wish I had used them originally. They really made quite a difference and added some extra traction as well. I only put them on the hinds though, as I notice the wear on the hinds on my mare seems about double from the fronts. I had no problem putting them in either.... It seems the boots on the hinds take quite a beating - but, I am so pleased with them, its going to be hard to go back to shoes. I will send you some photos as soon as I can get my husband to take some when I am riding.
Sincerely,
Lynn D.
Ladysmith, BC
__________________________________________
Wow what a beautiful piece of engineering!
I tried the boots on today for 15 minutes and couldn't believe the difference in my "gimpy" horse. He was a little nervous at first when I put them on - but when he discovered he was pain free he was quite excited!
I can tell you already that I'll be saving my pennies for a second pair for those back feet.
Thank you for your excellent service!
Regards,
Alena Ontario, Canada
__________________________________________
I bought the Stride Equus boots because my quarter horse tends to lose his
shoes easily, and I really don't ride that often. I do like parades however,
and the boots were fabulous this past Memorial Day-May 27 here in the US. We
have a 30 degree angle hill in our downtown and last year I had to dismount
as we went down the road as he was slipping. this year, no slipping! and
lots of comments --"look at his boots!" as we went through town with our
ribbons, glitter, show clothes. They got more attention than the
decorations did! Maybe we should carry a 'Stride Equus' banner next time!
Folks in the mounted sherrif's unit were also interested as they ride on
pavement quite a bit. Anyway, they worked!
Alison P. Dexter, MI
__________________________________________
The boots are working well. My old gelding dances his half passes and does his tempi changes in his front boots like they weren't there. His white line disease is virtually gone but I think I will keep him barefoot this spring and ride in the boots.
Val M Ontario Canada
__________________________________________
I got my horse 5 years ago when he was 10 years old. He was barefoot when I got him but his feet looked awful. My farrier at the time put shoes on him and he held them well for a couple years. After that he just kept throwing shoes, and his feet were breaking, and they were hardly growing at all. He was lame all the time. I was just about to the point where I was really close to giving up(Arthur was 14)when I meet my current farrier. She has totally rehabed my horse, and his feet are doing great.
The Marquis Boots are what saved him(well, besides my farrier). I love the Marquis. I've been using them for a little over a year now and I haven't had a single problem with them. They are a little expensive, but I think they're worth it. I love that each individual part of the boot is replaceable. They have great traction and if you need more, you can get studs for them. I also like that they have a little pad right under the frog. The air chamber, which is what holds the boot onto the foot, takes some testing to get it right for your horse. The boots come with a pump and you just have to keep trying till you get them so they don't come off, and so they are comfy for your horse.
The only issue that I have had(and its really not a problem at all) is that my horse overtracks so much from behind that he sometimes clips the air bubbles. I just got a pair of really big bells boots and put them over the Marquis, so now he catches the bells instead. He only wears them when I ride, and we are getting really close to starting to ride without any boots at all. I have been very happy with the Marquis.
Erin
__________________________________________
Dear Chris,
Things are going very well with our first couple of sessions with the boots -- our horse moves beautifully in them, and the fit is very good
thanks!
Liselyn A. Quebec, Canada
__________________________________________
Chris
I got my boots and tried them last weekend. They were perfect! Easy to put on, fit perfectly, and after a four hour ride, no rubs, no marks, no problems. And my mare moved beautifully. They're much better than the old macs I was using. So thanks for all the help !
Sue
_____________________________________
Hi Scott,
I received Chances boots yesterday. I tried them on today they fit perfect. It's the first boot that ever fit that deformed hoof. They were such a good fit and very comfortable for him. I have four different types of boots and none even came close to fitting. I will tell all my friends that have horses.
One more thing, my vet was out today she also thought the fit couldn't be any better. She took the brochure and said she will start recommending them to clients that have horses with problems.
Well, again thanks for all of your help in fitting the boots. They're great - a real life saver.
Best regards,
Glenda and Chance
________________________________________________________________________________
The photo was taken at Tamarack Hill Farm, Denny & May Emerson's place I introduced the marquis boot to them after riding for 3 days in the rain, across the x-c course etc... They were very intrigued about the boot…they were actually very excited about it--& I gave several demonstrations. Believe me I have seen quite a few eyebrows raised from trainers ... BUT results are the proof!! They can't deny it.
Claire L - Maine
________________________________________________________________________________
Hi Chris,
Thanks very much! Great Service!
Faye
________________________________________________________________________________
hi
I love my marquis boots. please can i get the new smaller valve replacement. my boots are the older model and i would like to have the new small valve instead of the large curved one that is presently on the boot.
thanks in advance
Lori
________________________________________________________________________________
Let me say that I love the boots. They are easy to use and they stay on the horse's feet. They have saved my horse from wearing down the toes of his back feet as he drags his back feet at the walk and trot.
Joanne I.
Ontario, Canada
________________________________________________________________________________
Hi Chris,
…very happy with the performance and fit..have found the Marquis Boots to stay on very well in all types of terrain and footing conditions.
Cyndee P - Arizona
________________________________________________________________________________
My horse really likes them…the boot does fit well, doesn't rub, farrier thought the wires in front are safely below the coronet, boot does not collect mud or debris inside, easy to clean, horse moves well and jumps well in them. The boot is easy to put on and off, seems fine in mud, doesn't twist…
Babette J
______________________________________________________________________________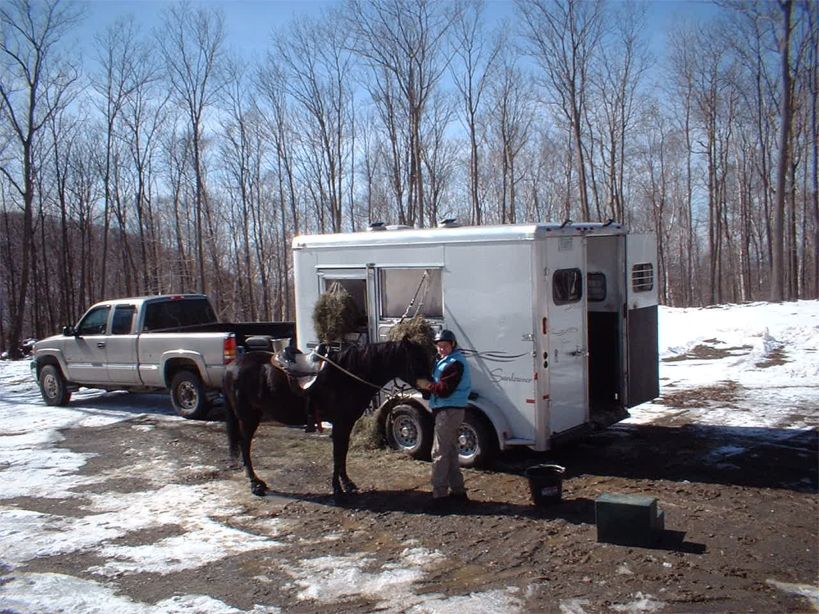 I am happy with the boots. You have a great product.
Andrea N. VT
________________________________________________________________________________
Hello. I am a new owner of the Marquis boots and they are working wonderfully for my TB. In fact, he does not like to ride without them. I tried it yesterday and he would not step out well and did not want to move and was very ouchy. I put them on and he rode great.
Heidi B
FL, USA
________________________________________________________________________________
Thanks for your warm, prompt, supportive responsiveness!!!!
– it's made all the difference in the world (at least my little world).
Thank you
Ann J
Topanga CA
________________________________________________________________________________
Chris-
Aniston and I are doing very well with our riding routine including the Marquis boots. I have kept my trim schedule of every 6 weeks and have not had a problem with fit.
It's a beautiful day in Tennessee and I am going riding with my StrideEquus boots!
Amy W
Portland, TN
________________________________________________________________________________
"…the Marquis Hoof Boot has been the only boot on the market that I have experienced that has provided an awesome fit for my horse. It provides excellent protection, cleverly designed as parts are replaceable etc and also promotes proper hoof mechanism. My horse has not experienced any soreness with this boot and it stays on. I am truly excited I can take my horse back out onto the trails knowing he will have the ultimate in hoof protection that will not fail him or I."
Yvonne A.
Port Coquitlam BC
________________________________________________________________________________
I love the Marquis..... such great breakover and simplicity of the on/off procedure! Not to mention how well the horses adapted to them and moved while wearing them. It's great to see a boot too, that isn't shifting and moving on the hoof.
Frances G. SHP
BC Canada ________________________________________________________________________________
I have been working closely with my farrier…to make sure her fit is right. He is very impressed with the boots as well. Can't say enough about them!! I will never go back to shoes - we will be sticking by our "Air Aniston's" from now on.
Drafts are very flat footed by nature - but they make such great riding horses and companions, I am glad to have found a product to allow me to ride her with the confidence knowing that she is protected.
Thanks again-
Amy W.
Portland, TN USA
________________________________________________________________________________
I went for a ride today...threw on two easy boots on the front and the two new hind Marquis hoof boots I had just purchased on the backs (the boot size for the fronts was not available when I ordered the backs) and honest to God I felt like my horse was floating on air...at least in the hind end! This boot is amazing for my horse! I don't think that his feet will ever be fully that of a horse that has never had shoes as he has damage in the digital cushion area due to shoeing for 10 solid years (based on what I learned with Christine Cline, AANHCP) but with this boot, it is amazing! No sensitivity...the digital cushion/frog area is protected which is sensitive for him and they did not twist or turn nor did they cause any rubbing or open sores. I have used three different hoof boots in the past and have always had problems with a good fit, especially for the hind feet. I can hardly wait to get the fronts!
Yvonne Allen
At Ease Equine Body Care @ www.equine-lameness.ca
_________________________________________________________________________________
I am looking into hoof boots for my Percheron / TB cross. She had her front shoes pulled 1 year ago just before she foaled. She has never had rear shoes. She has been barefoot ever since and just put back into work. Her problem is that her front feet are so flat that I am worried about riding her on trails / roads without protection. And - to justify this fear, she developed a hoof abscess a week ago, 6 days after a trim. She clearly needs protection for her sole/frog, but I would rather not go the traditional metal shoe route again.
Long story short - I looked into the easyboot/epic/boa/old Mac and your company. I am most interested in the marquis based on design. I measured my mare and she is just a hair larger than a size "5". BUT - your web site talks about a draft size and using them on full Percherons. Do you have a boot that would fit a 6 5/8 width? (The length of the size 5 looked appropriate)…
…the boots should work just fine. I discovered in my first few outings with the boots that I rapidly became a more relaxed and more confident rider knowing that her feet are protected.
The trial pair I received were in brand-new condition and I would like to keep them. (Now that I discovered these boots, I don't want to miss any riding time to ship these back and get another pair!)
Thank you for offering such a high quality product.
Amy W
Portland TN
_________________________________________________________________________________
My horse, Jake, has been wearing his boots now for about 3 months. I can't tell you how delighted both he and I are with the results.
Jake is a beautiful long languid mover. But he drags his back toes. When we work out in the practice ring where the footing material is abrasive (sandy), Jake's back toes wear off very quickly. The boots have stopped that wear completely. And they stay on no matter how hard we work or how wet the ground is.
This year, with the use of the boots during practice, our results in the show ring (English, Western, Driving) have improved significantly.
Your product is wonderful and I'm so glad I found you.
Joanne I
Ontario, Canada
_________________________________________________________________________________
There's no way I'm sending the Marquis' back! (after my Trial) They are wonderful boots and have really made my horse's transition from Strasser trimmed to Natural Barefoot trimmed a thousand times easier than it would have been. The boots with the insoles have made it possible for him to go back to the 3rd Level dressage work that he was doing prior to the Strasser rehab and trims while healing and growing sole and bar that had been removed.
I have also used them at times for turnout when he was especially uncomfortable or when up in the stall due to continuous rain we experienced this summer. In all cases, the boots have performed beyond my expectations and certainly far better than any other boots I tried. Can't be beat for ease of use, comfort for the horse and sturdiness/quality of manufacture.
I know at least two folks from my barn will or will be ordering a pair soon. Thanks again for the great products.
Best,
Patty F
Bluffton, SC
_________________________________________________________________________________
I currently have two pairs of the Marquis Supergrip Hoof Boots and my horse and I just love them. We compete in Eventing and in Show Jumping. I train with Robin Hahn a Three Day Eventer who has competed in the Olympics. Hahn said that my boots were the way to go! I agree totally, the Marquis boots perform better than any other hoof boots and I keep my horse barefoot.
Isla, BC Canada
________________________________________________________________________________
The boots are a great product and I think they are just what my pony needs.
Tucker, NC
________________________________________________________________________________
Received the Marquis boots this morning and "took them for a spin." So far I'd have to say they are just plain great. After going through a number of other boots that were always a struggle to fit, the Marquis are a relief! My horse who is transitioning from Strasser barefoot trim to Natural Barefoot trim is one hurting 'puppy'. He was just as happy with the Marquis boots as I. I strongly suspect that you will not be getting these back at the end of the two week trial period. The trial period is a great benefit for those of us who have experienced the long search for a product to give our barefoot horses relief while healing and have been often disappointed. I could have probably saved myself a lot of time and money had I found you sooner.
_________________________________________________________________________________
Greg Sokoloski of the Houston Police Department Mounted Police actually told me about your boots. He definitely sold me on them. I am an advocate of bare feet whenever possible and have been in search of a good boot for those times that I just can't barefoot. Any boot that comes so highly by the HPDMP is something I would really like to carry in my store.
Christine M., TX
_________________________________________________________________________________
I would not have even attempted barefoot in the first place were it not for the hope provided by the Marquis.
Brenda, BC Canada
_________________________________________________________________________________
We bought two pairs of boots (size 2 and 3) from the Boot Swap and we just love them. They stay on through everything and that includes bucking on the longe line, kicking around and mud. We have Warmbloods and we enjoy our horses by arena work and trail.
Dorothy, TN
________________________________________________________________________________
Greg Sokoloski and horse Shadow
Excerpts from:
City of Houston Police Horses Go Barefoot
Houston Police Department Mounted Unit-Barefoot Program
By Greg Sokoloski, Police Officer, City of Houston, Texas
The Houston Police Department started a full time Mounted Unit in 1983 to patrol the Central Business District in Downtown Houston. The unit started with 14 horses and has since grown to 36 horses, covering not only Downtown Houston, but also Memorial and Hermann Parks. The Mounted Unit is also utilized in crowd management, searches, parades, dignitary protection, and other special events where a mounted officer will be needed.
The Houston Police Department currently utilized 36 horses. There are 30 geldings and 6 mares, ranging in aged from 3 to 22 years. The breeds currently used are; 15 Quarter Horses, 8 Percheron Crosses, 3 Appendix Quarter Horses, 2 Percherons, 2 Belgian crosses, 1 Dutch Warmblood, 1 Hanoverian, 1 Hackney, 1 Quarter/Arab, 1 Paint, and 1 Thoroughbred.
I have been an officer with the unit since 1983 and have always used horses for police work with borium-tipped metal shoes. After watching Martha Olivo's demo using the cadaver leg, I was stunned and fascinated by the importance of hoof mechanism and how some of the injuries and behavioral problems could be due to the constraints of metal shoes.
I then went out to evaluate the performance of a barefoot police horse working full-time on the streets of Houston. Throughout the week, Shadow (Greg's mount) was monitored and evaluated by other Supervisors in the Mounted Unit. Shadow had worked every day of the Super Bowl barefoot, and never had any problems without shoes, or working in hoof boots. This convinced the administration there might be a need to more forward with additional police horses going barefoot.
I have taken an additional 9 horses into the Barefoot Program. Most of the horses in the program are horses that have had physical problems which have now been alleviated with a correct trim. Each additional horse that is taken into the barefoot program will have their hooves photographed and measured. Their progress will be evaluated each week by the Officer assigned to that horse. I am now trimming the horses that have been in the program about every 2 weeks. I am currently working on a Quarter/Arab mare that had very contracted hooves. She is now downtown barefoot, and doing very well.
We are also going to purchase 10 pairs of the Marquis Hoof Boots. With the Marquis, we are able to replace parts, including the soles, instead of replacing the whole boot…. being able to replace the soles is important to us. The Marquis boots will be used for transitioning a new horse into barefoot, long assignments, or protection in large disturbances.
Although there is much discussion over horses going barefoot, for the horses we have transitioned, we are very pleased with the results. More horses will continue to be added as the advantages become more apparent. We would like to extend an invitation for anyone wanting to visit our horses to contact me at 713 812-5158.
Original article in The Horse's Hoof, issue 18 – winter 2005
We now have 20 barefoot horses and not enough boots. (May 31, 2005)
We used some of the boots in a big demonstration that turned a little nasty, good test for the boots. We do need to use them on occasion especially in crowd control situations. I just used a set today on a horse that Texas A&M has said is navicular and they have been treating now for a year and could not get him right. I barefoot trimmed him, 2 weeks later I was riding him, and now I am taking him downtown, in your boots of course. He was even in the big demonstration, in your boots of course
.
Greg.
_________________________________________________________________________________
I recently got some #1 Boots from you and am thrilled with them.
Gabi, Nelson, BC
_________________________________________________________________________________
Thank you for allowing me to examine, try and evaluate your boots. Of all those I received, Boa, Old Mac, Marquis, I like yours the best. They're easy on and off and everything is replaceable. I checked the heels after each ride for soreness, but he was never sore.
…this area is called the Sandhills, the largest tract of stabilized sand dunes in the Western Hemisphere. Hence, my horse is unshod but I need boots for riding out of this area.
Thank you again, you have a great boot.
Al B.
Nebraska
_________________________________________________________________________________
Scott Martello, a 47 year old farrier from Albion, Maine has been
doing farrier work for 28 years. For the past 2 years, through
willing clients, he has been actively involved with performance horses
at various levels of dressage, jumping and general riding - all
barefoot. Scott believes that the performance horse can "reap the
benefits of going barefoot (and there are many)". "Keeping these
horses in work after coming out of shoes can be quite challenging.
The Marquis boot certainly meets this challenge. It provides
protection and traction when needed, goes on easy, and stays on
securely. It certainly is a boot for the performance horse, no matter
what the discipline. Booting horses is a big part of my barefoot
program. Hats off to Marquis boots! Without a doubt they are truly a
front runner in the booting industry"
_________________________________________________________________________________
I know several people that use the Marquis boots and really like them. They seem to fit good with the trimming guidelines we use, as well as the biomechanical advantages designed in the boots.

Cody Ovnicek, CO

________________________________________________________________________________

It's easy to stand behind such an excellent product.

Pat W Washington
_________________________________________________________________________________
We have used the boots several times…including a 7-mile hunter pace with a lot of cantering, and the boots have done their job and stayed on.
Thanks for helping us work the problems out.
Bob and Olivia, NC
__________________________________________________________________________________
Thanks for your prompt expert advice and support!!
TDiane CO
__________________________________________________________________________________
HI Chris,
The boots are fantastic. I used them for dressage and I was fortunate to have our rides taped. I can really tell the difference when he has them on vs bare foot, even in soft footing. That little horse never moved so well, he scored a 68.09 % in the Intro B test, all walk and trot. With the boots on. He is so comfortable in those boots.
I also took him out and rode him on the cross country course, and he was awesome. He was confident and balanced. He did pull a shoe, and unlike when that happens with a nailed on shoe, I just went back, got the shoe, put it on and off we went again. No torn up foot, from the nails. For any horse can pull a shoe from an awkward stride. The boots have only enhanced his movement and his confidence.
Thanks again.
Cheryl
PS, with the boots, he earned four first places, in four classes. That says a lot right there.
__________________________________________________________________________________
Likes: The MOST important thing is my horses love them - they are very protective of the hoof, and don't affect their gate or change their stride at all. I have never had any problems rubbing, though you can get a Teflon coated sock thing, but even my chestnut TB wimp didn't need those. I have done everything in these - well, my horses have ;) - hunter trial, dressage, show jumping, and good old messing around on the moors, woods, and in the good old English mud and clay - and they stay on! Being a skinflint, I also like that I can put varying amounts of air into the rear of the boot, and use them on horses with similar size but different shaped feet - try that with metal shoes! best of all, all parts are replaceable - the sole most importantly. Lastly, I can put studs in for really bad conditions.

Dislikes: Getting used to the air bag took a couple of goes, but its very easy and quick now.

Quality: design by a German veterinarian -need I say more? VERY well made, really solid construction, but not any heavier that steel shoes. Fits to the hoof really well, doesn't interfere when jumping.

Summary: try them in fluorescent yellow - not only safer when riding on roads in the gloom, but look amazing too, especially on my daughters black pony!

Rating: 5
From HorseTackReview.com
__________________________________________________________________________________
The Marquis are definitely our boot of choice for our horses. We like the fit and look, and they appear not to harm the hoof in anyway. We have a pair of Boa Horse boots that my husband used on a hunting trip and his horse developed serious bruises where they must have been too tight at the coronary band. I do like the fact that the Marquis are developed for a naturally trimmed hoof. I think it is important to offer my trimming clients a variety of hoof boot price ranges to choose from, and the Marquis, although more expensive than the others, are certainly excellent quality with nice options for all seasons of riding.
Janet, MN
__________________________________________________________________________________
Out of all of the horse boots, the Marquis are my favourite. They are the easiest to put on and the easiest for the horse to tolerate. There is no rubbing, they don't fill with stuff, and there is no chance of over-tightening a wire which can seriously bruise the coronet band. I just love them.
Diane Tucson AZ __________________________________________________________________________________
Thanks for the wonderful product!
Dawn Jenkins CA/Hawaii
____________________________________________________________________________________
I have used your boots on a mare, very nice horse with severe laminitis. She has been in the boots now for 2 months and has done absolutely fantastically in them. I'd be happy to recommend them.
Dr. Steve O'Grady DVM
___________________________________________________________________________________
Sport horses are a challenge to keep barefoot. Training and competition place heavy demands on the hoof, which must be met in order to keep the horse sound. As a farrier specializing in barefoot sport horses, I am always on the look out for ways to allow the horses in my care to train or compete at their best, no matter what their sport. My own small herd of horses often serve as test rats for new products and techniques. Joe, my spotted saddle horse, finds rocky terrain uncomfortable. Unfortunately for him, the mountainous area in which we live offers little else and he serves as a constant goad to find a better means to practice what I preach. Hoof hardeners, special polymers and assorted other tricks of the trade did little to help him, so I turned, once again, to hoof boots.
Hoof boots are an idea that has been around for as long as man has been relying on sound horses for transportation and enjoyment. There have been a number of permutations over the years, many of which have fallen by the wayside because they failed to meet the needs and demands of the working horse. The same is true of many of the boots found in the market today. After trying three prominent names in hoof boots and finding them wanting, I was about to admit defeat and place Joe in shoes. It seemed that the boots were either too complicated to put on for short rides or not stable enough for difficult ones. Instead, I decided to try one more time and ordered a pair of Marquis Hoof Boots.
When the boots arrived, their simplicity and solidity impressed me. The thought and care that went into the design and manufacture is immediately obvious. Fitting them on Joe wasn't difficult there are no confusing straps to get tangled in. Face it, when you don't have much time to ride, you don't want to spend half of it trying to get tacked up If putting the boots on is a pain in the butt, stay in the tack room. Once the Marquis boot is fitted, there is no point of it that interferes with sensitive areas of the foot- something that had been a concern with other boots. A short, cautious test spin around the yard proved Joe to be moving well, with no gait interference. It took a couple of tries to get the air pressure right, but once I did, the boots fit snugly to the hoof with no slippage. After a brief check for rubs or other signs of trouble, we took off for a real product test.
We were out for three hours and I took Joe and the boots through the toughest terrain I could find, concentrating on areas where other boots had failed. We rode at all gaits- including a fast rack and a gallop. We went through streams and fetlock deep mud, up and down steep, rocky hills, down gravel roads, jumped fallen logs and through deep underbrush. Finally we ended up in the mine strippings where we do our real conditioning work. This area has very steep hills made up of tiny pieces of shale. The footing is good, but can be deep and negotiating the hills requires a horse to really carry himself well. Some of the steeper, longer, down hills are negotiated by sliding on the hinds while using the fronts for traction. The boots performed beautifully through it all. There was never any indication that the boots were causing Joe discomfort or instability. When removed, there was no sign of irritation and when washed off, the boots were none the worse for wear. The boots have continued to perform well over more than thirty similar rides and show no sign of breaking down.
For the lawyers in the group please keep in mind that I am a professional. Your results may vary. This is the sort of riding I do all the time. I am familiar with the terrain and my horse's abilities. You must always use caution and good sense when trying out and new equipment. Riding and horses can be dangerous. There is no piece of equipment that is going to keep you or your horse safe in all situations, especially if you or the horse is being an eejit. Be smart, safe and aware at all times.
I am so favourably impressed by the boots that I have applied for permission to serve as a representative for Marquis and Stride Equus. The boots are comparable in cost to one or two average shoeings and with the availability of replacement parts, last considerably longer. The unique air chamber makes allowance for changes in hoof shape over time, making them a good option for transitioning a shod horse to barefoot. Simplicity of design and ease of application means less hassle for the rider, leading to consistent use.
Katrina Ranum
____________________________________________________________________________________
We rode about 4 1/2 hours, on trails ranging from pavement to rocky hills to muddy trails to brooks and water crossings. The boots didn't budge, and my horse seemed to be comfortable. The walk and trot both seemed fine - in fact, I swear his trot was a little smoother! When I took the boots off at the end, I checked for pinkness or any tenderness and there didn't seem to be any.
I rode with 24 other horses/riders - and everyone was pretty curious to see how the boots worked. No one had even seen or heard of them before. One of the fellows we ride with is a farrier - and he was impressed
So, first try I'd have to say was very successful.
Do you know how long the boots generally last (miles)?
We have one customer who has been tracking the number of miles she has put on her two pairs of boots and two months ago she had over 3,400 miles or 800 rigorous trail riding hours on her Marquis boots!!!!
Thought you'd appreciate the feedback. I'm looking forward to more successes - and will probably be ordering 2 more boots for hinds in the coming weeks.
Thank you
Lori, Massachusetts
_____________________________________________________________________________________
Cory Bigelow is one horse owner who has the best of both worlds. Cory Bigelow of Vernon BC and Cody, a 14 year-old Quarter Horse gelding, are an avid trail riding pair. Bigelow currently uses the Marquis hoof boots on her trips of which she has done over 800 rigorous trail riding hours or over 3,400 miles on her Marquis boots and they are still going strong. As Bigelow states in her interview, "I love them! They are hassle free. For me having something that is: A. hassle free, B. comfortable for my horse, and C. doesn't hold me up on a ride with other riders, is the ultimate!" Bigelow uses her boots on Cody on many different kinds of terrain such as hard rock, rolling rock, imbedded rock, ankle deep mud, stumps, sticks, tree roots, rolling hills, river crossings and lakes, snow and ice.
"My solution in a pair of boots would be: they're comfortable, they last, stay on and are easy to work with." states Bigelow. Although the Marquis boots have fallen off once, Bigelow says that it was a fit problem, "I corrected the fit and now they don't come off anymore." The air chamber in the back of the Marquis boot allows for flexibility and she thinks this boot is very adaptable as well as being easy to put on. "It's the easiest boot I have ever applied," comments Bigelow.
Booting is great for both the horse and the rider as it offers safety, freedom, natural hoof mechanism and great protection when you need it. Bigelow is just one case in many and if you were to ask her how she rates the Marquis boot, she would just smile and laugh, "Excellent, naturally!"
_____________________________________________________________________________________
Just wanted to let you know my boots and socks arrived on Monday. They are beautiful and well worth the price. Although I was a little concerned about them being too tight for Doimas, they fit perfectly. I can't remember the man who spoke with me several times the previous week when I ordered the boots, but he went out of his way to be helpful. Thank him for me, please.

Anyhow, I've got at least two neighbours who are very interested in the boots. The first day I tried them on Doimas, he walked out like he'd been wearing them all his life. And this from a horse who has never been shod or worn any type of hoof covering. I worked him for 15 minutes in the round pen and he was galloping and bucking all over the place. Of course, Doimas is a bit of a character, to say the least.

Since then I've taken him on two two-hour rides and have had absolutely no problems with his feet. I think he really likes the boots.
I really wanted to let you know I'm loving these boots. Even somebody like me can get them on the horse with no problem.

Thanks again!!!!
Cindy
Buckeye, AZ
_____________________________________________________________________________________
I'm very impressed by how well constructed the boots are and am looking forward to showing them to my clients!
We worked at a walk, rack and canter. Did some big hills, mud and a few logs. There was only one time when I had to get off and flip the clip and that was after going through some heavy brush. I am a very satisfied customer and will write up a glowing testimonial for my web site. Thanks!!
Katrina, PA
_____________________________________________________________________________________
"the Mercedes in hoof boots"
Fran Jurga
Hoofcare and Lameness Journal
_____________________________________________________________________________________
Finally, I decided to try the Marquis boot. I liked them the best. They were easy to put on and had a better shape for my mare's feet. She had a longer stride when she wore them which told me she was more comfortable. The Marquis boots have stayed on well for me for trail riding.
I really like my Marquis boots. They are much better than the Boa, easy boot, and old Macs for my mare.
Sharon DVM
_____________________________________________________________________________________
I like the boots. They're not too hard to use, even for a mechanical misfit like me. I wish that you make them smaller. I have a little 10 hand mule that I'm starting to drive this fall, with the daintiest little feet you ever saw.
______________________________________________________________________________________
My riding background has been in showing hunters, fox hunting, and polo, but Wren and I are strictly pleasure riders due to both Wren's peri-articular ringbone and back injuries I incurred following a serious riding accident a few years ago. Wren has had ongoing soundness problems since I acquired him five years ago as a "gift horse" when his previous owner relocated to Argentina. He was doing very well with light work, neutraceutical supplements, and magnetic therapy but was always unsound working to the right. He also had problems keeping shoes on and would sometimes trip so badly he would come close to falling. This past December I decided to pull his shoes and start him on barefoot trimming. His new farrier, Dawn Jenkins, who flies to Hawaii from California every five weeks, recommended Marquis horse boots to me.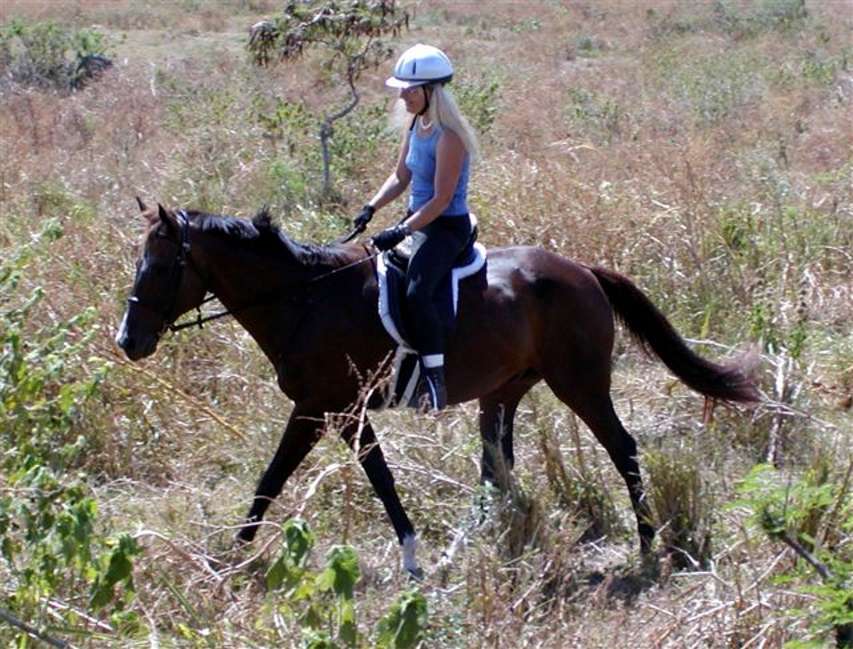 Monika Paulino and Wren, 15-yr-old TB gelding, North Shore, Oahu, Hawaii.
Photo Lori Watts
Since I've been using the boots, I am amazed at the difference in Wren. He is now sound in either direction and no longer has a tripping problem. After problems I've had with other boots, I am particularly pleased with the fact that the Marquis boots stay on in various types of terrain and during various types of horse-induced antics. They are also extremely easy to put on and remove. I have found very few products that live up to their advertising claims, but the Marquis horse boots actually do. Wren's feet are much healthier, as well, now that he is not wearing shoes. I would not hesitate to enthusiastically recommend Marquis horse boots to anyone in any riding discipline.
Thanks,

Monika
______________________________________________________________________________________
Hi Chris!
I got my boots! Thank you! They're great! I like that they fit snugly and don't flop around on her feet like some boots do. And are easy to put on and take off. that is so awesome! They'll get used and not end up in a sitting on a shelf like many boots do that are so difficult to use.
I rode around the pasture at a trot and canter and she seemed fine with them. At first, she acted like, "What the heck did you put on me feet?" When we walked over the rocks she got already for it to bother her feet, but I could tell she was a little confused when she didn't feel any pain. She took right off over them. It was funny.
Thank you for all your help!
Pat
______________________________________________________________________________________
As I was mentioning to you, I pulled the old metal shoes off my horse 3 years ago. We have been using another type boot but were not happy with how the entire boot had to be replaced when the soles wore out. The Marquis boots are so superior to anything we have tried. You can replace almost any part on the boot. The air bladder around the boot makes for a snug secure fit with no dirt or pebbles getting inside the back of the boot and chaffing the fetlock. It also keeps the water from going in over the top when crossing creeks.
To sum it up we are so happy with them…
So is "CJ" the horse!
Thank you,
Jonette
______________________________________________________________________________________
Sundance, Ogden, Utah's unique dancing police horse, is pictured with his official, police identification card photograph. He is a strikingly beautiful buttermilk buckskin, Quarter horse gelding with four white socks. Sundance will stop to dance for all the children young and old. He also visits them at their schools with his partner, Master Officer Ron Gardiner. Sundance promotes a unique downtown Ogden experience and will put a smile on your face.

Ron Gardiner, Ogden City Police Department

__________________________________________________________

Hi, I wanted to write and tell you how much I like the Marquis Supergrip Boots.

My horse has thin hoof walls and they can get quite shelly. Last summer he started to lose shoes, each time ripping more wall off. My farrier advised to pull his shoes and give him 6 months off to allow his feet to recover. This did not please me at all.

With my previous horse I had tried several types of "boots" but they all proved unsatisfactory. I was looking through a magazine and came across an article on the Marquis Boots, I decided to go ahead and get a pair and try them.

I had my farrier come out when the boots arrived to help me fit them, he told me of the importance to have the boots centered on the hoof, ie take a line from the center of the heel down the frog and mark the hoof. This is important for me as my horse is pigeon toed.

I slowly increased the time we were out riding and kept a careful check that the boots did not rub. We have varied terrain here it is quite rocky in places and when it rains we have lots of mud, the boots have been great, we can now ride for hours in comfort.

I have competed in several "Hunter Paces" and on one in particular several horses lost shoes as the footing was so dreadful, but we came home with boots in place.

I am looking forward to our first Dressage show and some Competitive Trail Rides in the spring. After the first few times the boots are really easy to put on and take off.

Nicholas's hoof walls have now fully recovered, but I am going to continue to let him go barefoot unless I am riding him with his boots on.

I would highly recommend these boots to anyone, mine have been ridden in since July and have many more miles in them.

Thanks Sue O

_________________________________________________________

FINALLY, THEY ARE HERE AND HERE TO STAY!

My name is Dakota and I am a 14year old Appaloosa. I am telling you this story so I can share with horse folks about my experience with my hooves. I'm a flat-soled horse with very tender soles. My rider, Jan, has tried shoes on my fronts but they are most uncomfortable, besides, living out here in the country, makes it difficult to have shoes done regularly. So Jan has converted to barefoot shoeing. It have been wonderful BUT not as exciting as what I have experience this week!

My job around home here is trail riding or to chase those darn cows down below in the field. My friends and I are often chasing those critters from one pasture to the next. Although I try to be speedy, I am most often bringing up the rear of the line because I just can't go any faster. You see my soles are too sensitive to walk on any hard surface. Every little pebble hurts. I am always tripping and wincing and trying to get to softer ground. Jan, is quite patient with me, however, I know sometimes she is a little frustrated with my tender toot

sies and speed. She allows me to walk off roads in the grass most of the time but there are those occasions that I just can't do that. When I have to race across the rocky countryside or down a rocky trail my soles have been bruised. Not much fun at all.

But guess what! Jan has found the answer to helping we with my sore hooves. Bless her for finding MARQUIS SUPERGRIP HOOF BOOTS. These well-constructed, sturdy boots are heaven. They fit snug are comfortable and have never come loose or fallen off. If by chance I damage any part of my boot, Jan can get the part replace without having to replace the whole boot. This is great because I will never have to be without my MARQUIS SUPERGRIP HOOF BOOTS. Since I have been properly fitted with these boots, chasing cows has never been such fun. I can speed across the pastures, over rocky hillsides, down ste

ep slopes and even through the creek. No horse waits for me now because I am at the front of the line and it's my turn to I wait for the rest of the crew to catch up. I have noticed that Jan has given a few sighs at arriving first at the gates because now she has to get down from the saddle and open it. She really doesn't mind though, for now she can also rest (Ahhh) while those behind catch up.

Speaking from experience, I Dakota the horse would truly be comfortable in recommending you to try these wonderful boots. I have the best of both worlds now, bare-foot in the pasture all-natural and work boots for the heavy duty riding. Life hasn't been so good till now!

Hoof Note: From Jan

The difference that we have noticed with Dakota is like night and day. He is more confident in his movement and is no longer as concerned as to where he is going to place his hooves. These boots are well worth trying. So if you are or not, having problems with your horse's hooves, I would not hesitate to try the Marquis Supergrip Hoof Boots. You will not be disappointed. Thank-you Marquis!

Yours truly, Janice F

________________________________________________________

Hello! My name is Phydeaux Bo-dell. I am a 21 year old Registered Chestnut American Quarter Horse. I have had very tender feet for 20 of the 21 years of my existence.

My owner Lisa Courtney has owned me for seven years now and for six of the seven years has been trying to correct my foot problem. My owner tried corrective shoeing and traditional medicine to alleviate my problem but with no success. About one year ago she met some new friends that gave her information on alternative medicines and diets. With much research on the information she was given she then started me on an alternative course. She started by pulling my metal shoes off my tender feet and found a competent farrier that could do a correct natural trim.

My owner then purchased the Swiss Horse Boot. The boots were supposed to be used for transitioning me to being barefoot, again after being in corrective metal shoes for six years. This boot was awkward and my feet changed too often. This boot would only work for a few days after getting my feet trimmed.

My owner got fed up with this and began searching for a different boot. In her search she was given a web address for the Marquis Super Grip Horse Boot. This was exactly what my owner was looking for. She ordered a pair and when they arrived we fitted them with ease. I felt so excited about they way they fit and how comfortable they felt.

After about a week I felt comfortable enough to canter and run a little. I'll have to say that this has been the most confident I have been in a long time. I felt like my owner and I could go on a trail ride safely with out me tripping or getting lame. Now I can't wait to hit the trails because I know I will have a pain free ride.

I just want to thank my owner for being open minded, trying new things, and especially not giving up on me. I want to thank the Inventor of the Marquis Super Grip Boots for taking the time to invent a hoof boot that fits a horse like a glove. I know it was a difficult task and a labor of love for all equines. Thank you for giving me to opportunity to go barefoot again like a horse is meant to be.

Phydeaux Bo-dell

Owner and Companion Lisa C

Voices from other countries

Supergrips are Super Boots!

A review by Pigsbird on Marquis Supergrip Hoof Boots
March 8th, 2006




I made the decision to keep my ponies unshod in August last year. As I wanted to keep them in full work (one is a driving pony and covers several miles a day on the roads) I decided that hoof boots were going to be needed.

After doing lots of research I came across the Marquis Supergrips, and I can honestly say they are fantastic.

Although the initial purchase price may seem quite steep (£150ish), all of the parts are replaceable. So whereas with other hoof boots, when the sole is too worn you need to throw them away and start again, with the Marquis you can simply order a new pair of soles (£18ish). This I feel will save a lot of money in the long term.

The advantage of hoof boots over shoes is that you can allow your pony to be shoe free, but their feet can be protected when you need to work them. This has benefits as the concussion that the leg receives is greatly decreased when there are no nail on shoes. The pony should also have better traction and shock absorption.

The Marquis boots are very easy to put on. You put the hoof into the boot and then fasten a clip across the front. There is an air chamber in the back of the boot that you then pump up (with the pump supplied or a bicycle pump if you lose it) for a really snug and individual fit. When you want to take the boots off again you release the air from the chamber and unclip the boot, then it simply pulls off. It takes about 1 minute to put a boot on and 30 seconds to take it off.

The boots fit really well and mine get used regularly. They have never come off or twisted in the mud. Another advantage to the Supergrips is that you can screw studs into the bottom, giving you more grip if you need it (I've never needed to do this).

The boots come in various sizes and you simply measure across the widest part of the hoof and then pick the appropriate size.

They look very neat and are well designed. They come in two colours, either black (which I have) or fluorescent yellow, for the safety concious!

In the box were the boots, an air pump and instructions on how to fit them for the first time. There was also a contact number in case you got stuck with fitting, but I didn't need this as they are so easy to put on.

They last really well, mine get used regularly and there's barely a mark on the sole. They seem very well constructed and I have had no problems with anything coming lose or breaking.

My ponies seem to like having them on too! They have never taken a funny step, even when I first put them on and they have no objection to me putting them on, so I think they must find them comfortable, they certainly look it!

The UK supplier of the boots (which are a German design) is

Equestrian

Select (www.equestrianselect.co.uk). I ordered my boots from them and found them very helpful and the boots arrived quickly. They also offer a hire service for the boots, so you can try them for 2 weeks and see how you get on, check fit and make sure your

horsee

is happy about wearing them. This costs about £40, but this is then deducted from the purchase price of the boots if you decide to keep them. A really good idea in my opinion!

So despite the initial outlay, I think that these boots are fantastic value and worth every penny. They are hard wearing, easy to use and fit well! I really recommend them.