Ride In Stride
For the Comfort of Your Horse
From horse loggers in Alaska to Fox Hunters in Virginia; trail riding in Hawaii to skijoring in Quebec, marquis hoof boots are helping horses of all descriptions to take confident strides in their way of life.
The marquis supergrip horse boot is the result of successful combining of equestrian veterinary science and biomechanics.
Made in Germany by Dr. Helmut Marquis, these boots are the extreme in hoof protection. Hoofcare and Lameness Journal published the Marquis boots as "the Mercedes of Hoof Boots".
With the comfort of an ergonomic fit provided by unique air chambers that hug the bulbs of the hoof, the marquis supergrip has a steadfast fit throughout many kinds of riding.
All of the marquis supergrip parts are replaceable, making this the most long lasting, easy to use, and comfortable horse boot on the market.
A new technique (computer kinematography) was used in clinical studies to analyze the gliding and stopping characteristics of a horse's leg when wearing iron horseshoes , marquis supergrip, and bare foot. Using the results of this research, a synthetic sole was developed, which equals the gliding and stopping features of the bare hoof.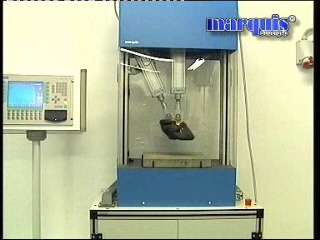 The marquis boots are ideal for the transition from nailed on shoes to barefoot, as well as any therapeutic purposes. They are long lasting, made with the utmost of quality in mind.
s